Australia Language & Culture
'Australia is known for its warm climate, enthusiastic people, and a friendly, multicultural community. That's reflected in our arts and cultural scene, buzzing with energy, and vibrantly linking an international outlook with a local passion for new ideas and making connections.'
Australian English has a distinctive accent and vocabulary. Because people from about 200 countries around the world have migrated to Australia, there is a vast collection of languages spoken in the country. Other languages spoken in Australia include Vietnamese, Cantonese, Mandarin, Italian, Arabic and Greek.
Australia has a multicultural population practicing almost every religion and lifestyle. Over one-quarter of Australians were born outside Australia, and another quarter have at least one foreign-born parent. Melbourne, Brisbane and Sydney are centers of the multicultural. All three cities are renowned for the variety and quality of global arts, intellectual endeavors, and cuisine available in their many restaurants.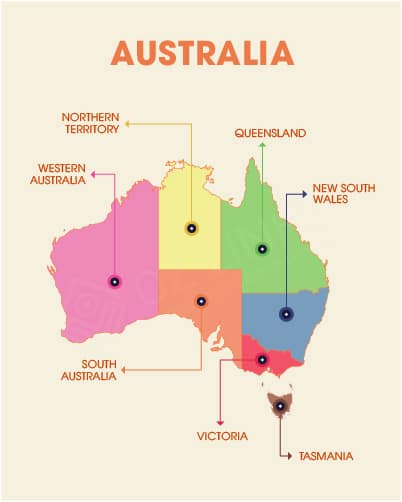 Australia Multicultural Society
Sydney is a hub of art, culture, and history containing the world class architectural gem, the Sydney Harbor Bridge. Melbourne especially promotes itself as a center for the arts, while Brisbane promotes itself through various multicultural urban villages. Adelaide must be mentioned in addition, as it is known for being a center for festivals as well as Germanic cultural influences. Perth, also, is known for its food and wine culture, pearls, gems and precious metals as well as the international fringe arts festival.
There are quite a few more that deserve mention, but this gives an idea via introduction. Smaller rural settlements generally reflect a majority Anglo-Celtic culture often with a small Aboriginal population. Virtually every large Australian city and town reflects the effect of immigration from Europe, Asia, the Middle East and the Pacific that occurred after World War II and continued into the 1970s, in the half century after the war when Australia's population boomed from roughly 7 million to just over 20 million people.
There are approximately half a million Australians who identify as being of Aboriginal descent. Less maintain elements of traditional Aboriginal culture.
Descendants of the population of convicts mentioned in the country's history are currently a smaller minority compared to the estimated 50% of the population originally comprised of them when Britain and others landed on the shores and inhabited the land. Long ago during the involuntary transportation and relocation from Europe and other places, it must be noted that all records were not kept nor available to others, nor have those records that existed all survived the uses of people throughout history.
The English of Australia were once known for local colour and colloquialisms but that largely has been lost to outside influence and influx. People in rural areas still tend to speak in a broader, colloquial accent and have a different manner, using many of the slang words that have become outmoded in metropolitan areas. Accents tend to be broader and slower outside of the large cities.
There are overall small pronunciation differences based upon culture of origin in the cities, but these are becoming less common. Speech has become more generic. For example the word "you" colloquially, is often rolled off the tongue sharply on the south east coast, almost as "ewe" as opposed to the west coast and other regions. Another modern variation based upon migrants from Africa is found in Afrikaans accents on the west coast, modifying the local accents slightly due to the larger population and numbers of Afrikaans and Boer African immigration there. In the urban English speaking world, an educated, white-collar and/or conservative Australian accent is softer or generic in tonal quality, rather than the sharp tones in some rural areas. Regarding other variations in speech, usually native speakers can recognize the subtle regional variations.
A trend among Australians is social conservatism compared to some European cultures and an acquired balanced attitude, defining their European origins within a preference for the growing Asian influence. They tend to be relaxed regarding religious observance. Most Australians will tend to address you by your first name and will expect that you reciprocate.
The National Holidays In Australia
1 January: New Years' Day
26 January: Australia Day, marking the anniversary of the First Fleet's landing in Sydney Cove in 1788.
Easter weekend ("Good Friday", "Easter Saturday", "Easter Sunday" and "Easter Monday"): a four day long weekend in March or April set according to the Western Christian calendar.
25 April: ANZAC Day (Australia and New Zealand Army Corps), honouring military veterans
Second Monday in June: Queen's birthday holiday (celebrated in Western Australia in September) (WA observes Foundation Day a week earlier)
25 December: Christmas Day
26 December: Boxing Day
We help international student to settle in Australia
Find the right course
We support international students to choose the right course and help you reach your academic goals and your future career in Australia.